What is Extension?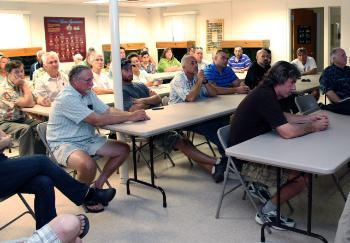 Extension is a partnership between state, federal, and county governments to provide scientific knowledge and expertise to the public. The University of Florida, together with Florida A&M University, administers the Florida Cooperative Extension Service.
At the University of Florida, Extension is located in the Institute of Food and Agricultural Sciences (IFAS), along with the College of Agricultural and Life Sciences (CALS) and the Florida Agricultural Experiment Station, and is called UF/IFAS Extension.
UF/IFAS Extension encompasses thousands of Extension faculty members, scientists, educators, administrative staff, and volunteers, all working to provide useful information.
The Tropical Aquaculture Laboratory (TAL) is within IFAS and, as such, extension is integral to its mission. Extension programs provided through the TAL primarily target the needs of Florida's ornamental fish and aquatic plant aquaculture industries. In addition, the TAL faculty and staff provide support to other aquaculture commodity groups (e.g., food and game fish) and relevant organizations such as the Florida Fish and Wildlife Conservation Commission (FWC). Agency partners that assist in the TAL's mission include the United States Department of Agriculture (USDA) Animal and Plant Health Inspection Services (APHIS) - Wildlife Services, which provides assistance with nuisance wildlife; USDA APHIS - Veterinary Services, which provides assistance with federal regulatory issues and provides aquatic animal health certificate endorsements; the Florida Department of Agriculture and Consumer Services (FDACS) - Division of Aquaculture, and FDACS - Division of Animal Industry.
UF TAL extension program areas include general production, nutritional management, water quality, pond and recirculating system management, pest management (including pesticide applicator training and testing), reproduction, fish health and disease management, and non-native species.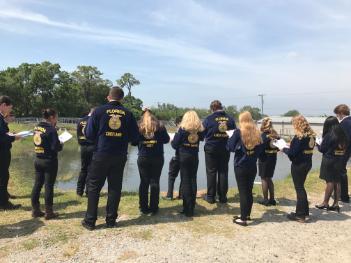 Educating youth is also an important aspect to extension and the mission of TAL. Some partnerships with youth programs, such as Florida FFA, are well-established and will continue to grow while others are being developed to forge new bonds with youth throughout the state and to educate them about the ornamental aquaculture industry within Florida.
Extension information and support is provided to clientele through many avenues. Within the ornamental industry, perhaps the most valuable extension tool is an on-site visit. Whether it's on the client's farm or at the TAL; solving problems can be streamlined through face-to-face interactions and hands-on demonstrations. Workshops, short courses, training programs, industry meetings, newsletter articles and extension publications are all are useful tools allowing timely dissemination of information.
Extension faculty members also provide support through participation in relevant working groups and committees of various county, state, and federal agencies.