Debbie Pouder, M.Aq.
Diagnostic Lab Manager/Coordinator, Research Programs & Services
Debbie Pouder began working for the University of Florida in 1996, first based at the Department of Fisheries and Aquatic Sciences' Sam Mitchell Aquaculture Demonstration Farm in the Florida panhandle. She was involved in all aspects of the foodfish and baitfish extension and research programs. Debbie transferred to the UF Tropical Aquaculture Lab (TAL) in 2002 where she manages the Fish Disease Diagnostic Lab and works on a variety of research and extension programs, especially in the area of aquatic animal health. She also coordinates TAL's veterinary externship program.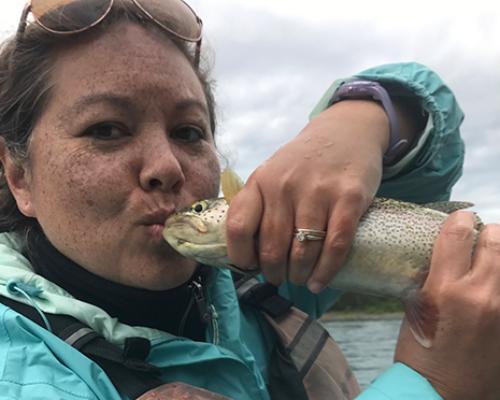 CONTACT
UF/IFAS Tropical Aquaculture Laboratory
1408 24th Street SE
Ruskin, FL 33570
dbpouder@ufl.edu
813-671-5230 x106
Education

M.Aq., Aquaculture, 1996, Auburn University

B.S., Marine Biology, 1993, University of North Carolina at Wilmington

Research Publications

Koda, S.A., K. Subramaniam, D.B. Pouder, R.P. Yanong, S. Frasca Jr., V.L. Popov, and T.B. Waltzek. 2021. Complete genome sequences of infectious spleen and kidney necrosis virus isolated from farmed albino rainbow sharks Epalzeorhynchos frenatum in the United States. Virus Genes 57(5): 448-452.
https://link.springer.com/article/10.1007/s11262-021-01857-6

Cassle, S.E., R.P.E. Yanong, D.B. Pouder, C. Rodriguez, N. Mylniczenko, P.M. Thompson, N.K. Stilwell, K.J. Heym, T. Harmon and N.I. Stacy. 2021. Reference intervals for Blood Analytes of Adult Aquarium-Housed Russian Sturgeon Acipenser gueldenstaedtii. Journal of Aquatic Animal Health 33(1): 33-43.
https://afspubs.onlinelibrary.wiley.com/doi/abs/10.1002/aah.10116

Weisbrod, T.C., A.B. Jean, A. Childress, D.B. Pouder, J. Castellanos-Gell, N.I. Stacy, H.D.S. Walden, M.M. Garner, R.P.E. Yanong, and R.J. Ossiboff. 2021. Gastrointestinal entamoebiasis in captive anurans in North America. Diseases of Aquatic Organisms 143:109-118.
https://www.int-res.com/abstracts/dao/v143/p109-118/

Lovy, J., R.P.E. Yanong, J.M. Stilwell, T.B. Waltzek, J.P. Shelley, D.B. Pouder, J.C. Wolf and A.C. Camus. 2021. Tetra disseminated microsporidiosis: a novel disease in ornamental fish caused by Fusasporis stethaproini n. gen. n. sp. Parasitology Research 120:497-514.
https://link.springer.com/article/10.1007/s00436-020-06988-7

Scherbatskoy, E.C., K. Subramaniam, L. Al-Hussinee, K. Imnoi, P.M. Thompson, V.L. Popov, T.F.F. Ng, K.L. Kelley, R. Alvarado, J.C. Wolf, D.B. Pouder, R.P.E. Yanong, and T.B. Waltzek. 2020. Characterization of a novel picornavirus isolated from moribund aquacultured clownfish. Journal of General Virology.
https://doi.org/10.1099/jgv.0.001421

Koda S.A., K. Subramaniam, D.B. Pouder, R.P. Yanong, T.B. Waltzek. 2019. Phylogenomic characterization of red seabream iridovirus from Florida pompano Trachinotus carolinus maricultured in the Caribbean Sea. Archives of Virology 164(4):1209-1212.
https://doi.org/10.1007/s00705-019-04155-7

Martony, M, D. Pouder, R. Yanong, Y. Kiryu, J.H. Landsberg, R. Isaza, T. Waltzek, N.I. Stacy, R. Giglio, S. Baker, and R. Francis‐Floyd. 2018. Establishing a diagnostic technique for coelomocentesis in the Long‐Spined Sea Urchin Diadema antillarum. Journal of Aquatic Animal Health 30:325-331.
https://doi.org/10.1002/aah.10043

Pomaranski E.K., S.R. Reichley, R. Yanong R, Shelley J, D.B. Pouder, J.C. Wolf, K.V. Kenelty, B. Van Bonn, F. Oliaro, B. Byrne, K.A. Clothier, M.J. Griffin, A.C. Camus, and E. Soto. 2017. Characterization of spaC-type Erysipelothrix sp. isolates causing systemic disease in ornamental fish. Journal of Fish Diseases 41:49-60.
https://doi.org/10.1111/jfd.12673

Griffin, M.J., S.R. Reichley, T.E. Greenway, S.M. Quiniou, C. Ware, D.X. Gao, P.S. Gaunt, R.P.E Yanong, D.B. Pouder, J.P. Hawke, and E. Soto. 2016. Comparison of Edwardsiella ictaluriisolates from different hosts and geographic origins. Journal of Fish Diseases 39(8):947-969.
https://doi.org/10.1111/jfd.12431

Francis-Floyd, R., R. Yanong, J. Landsberg, S. Baker, Y. Kiryu, T. Waltzek, D. Pouder, M. Flint, N. Stacey, R. Smolowitz, G. Beck, and W. Sharp. 2015. Development of diagnostic protocols for health assessment of long-spined sea urchins, Diadema antillarum, in Florida. Journal of Shellfish Research 34(2):630-631.
https://www.vin.com/apputil/content/defaultadv1.aspx?pId=14818&id=7312408

Soto, E., A.E. Primus, D.B. Pouder, R. H. George, T.J. Gerlach, S.E. Cassle, T. Johnson, S. Boyd, T. Handsel, and R.P.E. Yanong. 2014. Identification of Francisella noatunensis in novel host species French grunt (Haemulon flavolineatum) and Caesar grunt (Haemulon carbonarium). Journal of Zoo and Wildlife Medicine 45(3): 727-731.
https://www.ncbi.nlm.nih.gov/pubmed/25314854

Steckler, N.K., R.P.E. Yanong, D.B. Pouder, A. Nyaoke, D.A. Sutton, J.R. Lindner, B.L. Wickes, S. Frasca, Jr., J.C. Wolf, and T.B. Waltzek. 2014. New disease records for hatchery-reared sturgeon. II. Phaeohyphomycosis due to Veronaea botryose. Diseases of Aquatic Organisms 111:229-238.

Soto, E., O. Illanes, D. Hilchie, J.A. Morales, P. Sunyakumthorn, J.P. Hawke, A.E. Goodwin, A. Riggs, R.P. Yanong, D.B. Pouder, R. Francis-Floyd, M. Arauz, L. Bogdanovic, F. Castillo-Alcala. 2012. Molecular and immunohistochemical diagnosis of Francisella noatunensis subsp. Orientalis from formalin-fixed, paraffin-embedded tissues. Journal of Veterinary Diagnostic Investigation 24(5):840-845.
https://doi.org/10.1177/1040638712452108

Yanong, R.P.E., D.B. Pouder, J.O. Falkinham III. 2010. Association of mycobacteria in recirculating aquaculture systems and mycobacterial disease in fish. Journal of Aquatic Animal Health 22:219-223.
https://doi.org/10.1577/H10-009.1

Hill, J.E., K.H. Kilgore, D.B. Pouder, J.F.F. Powell, C.A. Watson, and R.P.E. Yanong. 2009. Survey of Ovaprim™ use as a spawning aid in fishes in the United States as administered through the University of Florida Tropical Aquaculture Laboratory (2001 - 2007). North American Journal of Aquaculture 71:206-209.
https://doi.org/10.1577/A08-020.1

Lazur, A.M., D.B. Pouder, and J.E. Hill. 2008. Preliminary evaluation of Gulf sturgeon production and sustainability of a zero-discharge pond water recirculating tank system. North American Journal of Aquaculture 70:281-285.
https://doi.org/10.1577/A06-052.1

Mauel, M.J., D.L. Miller, E. Styer, D.B. Pouder, R. P. E. Yanong, A. E. Goodwin, T. E. Schwedler. 2005. Occurrence of Piscirickettsiosis-like syndrome in tilapia in the continental United States. Journal of Veterinary Diagnostic Investigation 17(6):601-604.
https://doi.org/10.1177/104063870501700616

Extension Publications

Francis-Floyd, R., J. Landsberg, R. Yanong, Y. Kiryu, S. Baker, D. Pouder, W. Sharp, G. Delgado, N. Stacy, T. Waltzek, H. Walden, R. Smolowitz and G. Beck. 2020. Diagnostic Methods for the Comprehensive Health Assessment of the Long-Spined Sea Urchin, Diadema antillarum. UF/IFAS EDIS Publication VM244.
https://edis.ifas.ufl.edu/pdffiles/VM/VM24400.pdf

Hartman, K.H., R.P.E. Yanong, D.B. Pouder, B.D. Petty, R. Francis-Floyd, A.C. Riggs, and T.B. Waltzek. 2013. Koi Herpesvirus Disease (KHVD). University of Florida/IFAS Extension Publication VM149.
https://edis.ifas.ufl.edu/pdffiles/VM/VM11300.pdf

Francis-Floyd, R., C. Watson, D. Petty, and D.B. Pouder. 2009. Ammonia in Aquatic Systems. University of Florida/IFAS Extension Publication FA16.
https://edis.ifas.ufl.edu/pdffiles/FA/FA03100.pdf

Lazur, A.M., D.B. Pouder, M.L. Brinkley, E. Shook, Y. Goode, and H. Kent. 2006. Gold Rush: Exploring an Alternative 4-H Livestock Experience. Journal of Extension 44(3):3IAW3.

Crosby, T.C., J.E. Hill, C.V. Martinez, C.A. Watson, D.B. Pouder, and R.P.E. Yanong. 2005. Harvesting Ornamental Fish from Ponds. University of Florida/IFAS Extension Publication FA117.
https://edis.ifas.ufl.edu/pdffiles/FA/FA11700.pdf

Crosby, T.C., J.E. Hill, C.V. Martinez, C.A. Watson, D.B. Pouder, and R.P.E. Yanong. 2005. Grading Ornamental Fish. University of Florida/IFAS Extension Publication FA118.
https://edis.ifas.ufl.edu/pdffiles/FA/FA11800.pdf

Crosby, T.C., J.E. Hill, C.V. Martinez, C.A. Watson, D.B. Pouder, and R.P.E. Yanong. 2005. On-Farm Transport of Ornamental Fish. University of Florida/IFAS Extension Publication FA119.
https://edis.ifas.ufl.edu/pdffiles/FA/FA11900.pdf

Crosby, T.C., J.E. Hill, C.V. Martinez, C.A. Watson, D.B. Pouder, and R.P.E. Yanong. 2005. Preparation of Ornamental Fish for Shipping. University of Florida/IFAS Extension Publication FA120.
http://edis.ifas.ufl.edu/pdffiles/FA/FA12000.pdf

Pouder, D.B., E.W. Curtis, and R.P.E. Yanong. 2005. Common Freshwater Fish Parasites Pictorial Guide: Sessile Ciliates. University of Florida/IFAS Extension Publication FA107.
http://edis.ifas.ufl.edu/pdffiles/FA/FA10700.pdf

Pouder, D.B., E.W. Curtis, and R.P.E. Yanong. 2005. Common Freshwater Fish Parasites Pictorial Guide: Motile Ciliates. University of Florida/IFAS Extension Publication FA108.
http://edis.ifas.ufl.edu/pdffiles/FA/FA10800.pdf

Pouder, D.B., E.W. Curtis, and R.P.E. Yanong. 2005. Common Freshwater Fish Parasites Pictorial Guide: Flagellates. University of Florida/IFAS Extension Publication FA109.
http://edis.ifas.ufl.edu/pdffiles/FA/FA10900.pdf

Pouder, D.B., E.W. Curtis, and R.P.E. Yanong. 2005. Common Freshwater Fish Parasites Pictorial Guide: Dinoflagellates, Coccidia, Microsporidians, & Myxozoans. University of Florida/IFAS Extension Publication FA110.
http://edis.ifas.ufl.edu/pdffiles/FA/FA11000.pdf

Pouder, D.B., E.W. Curtis, and R.P.E. Yanong. 2005. Common Freshwater Fish Parasites Pictorial Guide: Monogeneans. University of Florida/IFAS Extension Publication FA111.
http://edis.ifas.ufl.edu/pdffiles/FA/FA11100.pdf

Pouder, D.B., E.W. Curtis, and R.P.E. Yanong. 2005. Common Freshwater Fish Parasites Pictorial Guide: Digenean Trematodes. University of Florida/IFAS Extension Publication FA112.
http://edis.ifas.ufl.edu/pdffiles/FA/FA11200.pdf

Pouder, D.B., E.W. Curtis, and R.P.E. Yanong. 2005. Common Freshwater Fish Parasites Pictorial Guide: Nematodes. University of Florida/IFAS Extension Publication FA113.
http://edis.ifas.ufl.edu/pdffiles/FA/FA11300.pdf

Pouder, D.B., E.W. Curtis, and R.P.E. Yanong. 2005. Common Freshwater Fish Parasites Pictorial Guide: Acanthocephalans, Cestodes, Leeches, & Pentastomes. University of Florida/IFAS Extension Publication FA114.
http://edis.ifas.ufl.edu/pdffiles/FA/FA11400.pdf

Pouder, D.B., E.W. Curtis, and R.P.E. Yanong. 2005. Common Freshwater Fish Parasites Pictorial Guide: Crustaceans. University of Florida/IFAS Extension Publication FA115.
http://edis.ifas.ufl.edu/pdffiles/FA/FA11500.pdf

Watson, C.A., J.E. Hill, and D.B. Pouder. 2004. Species Profile: Koi and Goldfish. USDA Southern Regional Aquaculture Center Publication #7201.
https://srac.tamu.edu/serveFactSheet/178

Britt, D.C., A.M. Lazur, and P. Zajicek. 1998. Market Assessment for Florida Sturgeon. Florida Department of Agriculture and Consumer Services, Bureau of Seafood and Aquaculture, Tallahassee.

Lazur, A.M. and D.C. Britt. 1998. Recirculating Pond Production Systems. USDA Southern Regional Aquaculture Center Publication #455.
https://srac.tamu.edu/serveFactSheet/106