Aquatic Veterinary Medicine Externship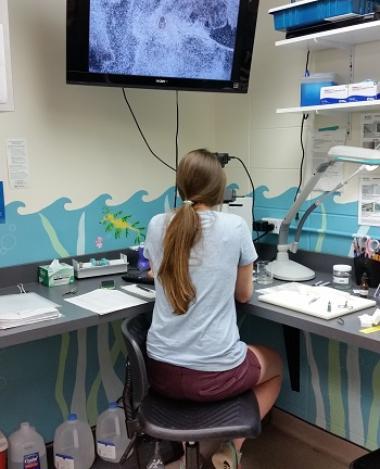 The University of Florida Tropical Aquaculture Laboratory's Fish Disease Diagnostic Lab offers 4 - 8 week externship opportunities to veterinary students interested in aquatic animal medicine. Veterinary externs assist faculty and staff with all diagnostic lab duties and may assist with aquaculture and non-native species related activities at the laboratory when necessary. Because the Lab is in the heart of the aquarium fish industry, our veterinary externship allows for full engagement with ornamental (aquarium fish) and other aquaculture producers, including assistance with on-farm and laboratory diagnostics, fish health management recommendations, and extension outreach programs. Externs may spend time working one-on-one with farmers, faculty, and staff and gain direct exposure to aquaculture medicine, aquaculture production techniques, non-native species, and regulatory concerns. The importance of water quality, production systems and methodology, biosecurity, and herd health management are emphasized throughout the rotation.
The serves commercial Florida fish producers, wholesalers, and retailers as well as state agencies. Services offered include water chemistry testing, parasitology, bacteriology, histology, and virology. The laboratory has a full-time veterinary staff and also works collaboratively with other veterinary specialists and laboratories throughout the state and U.S. The Lab sees approximately 250 - 300 cases a year. Ornamental fish species comprise the largest number of cases, though foodfish, gamefish, and baitfish cases are also seen throughout the year. Other cases may include aquatic frogs, shrimp (especially ornamental species), and alligators.
Educational opportunities and responsibilities include developing an understanding and basic proficiency in:
Obtaining a thorough case history
Testing and interpreting water chemistry
Fish necropsy and microbiology techniques
Non-lethal fish examination techniques
Histological sampling
Medical case interpretation
Developing medical and management recommendations
Client interaction both in the diagnostic lab and on farm and facility site visits
Common aquaculture fish health management methods and chemotherapeutics
Basic ornamental aquaculture production and husbandry techniques, including system design and management
Common fish reproduction strategies and techniques, including induced spawning methods
Common aquarium fish families and species, as well as their general husbandry and production methodology
Field work with staff may include site visits to one or more local facilities including ornamental fish farms, state fish hatcheries, and/or public aquaria.
Oral examinations/reviews are conducted on a routine basis to assess the progress of externs. Students are provided with an extensive digital resource of publications and are expected to review this information throughout the duration of the externship. Externs will work Monday through Friday and are on-call during weekends and holidays to assist with disease diagnostics, research, and outreach as necessary.
Contact Information
For more information regarding opportunities or for specific questions, please contact:
Debbie Pouder, Diagnostic Lab Manager and Coordinator of Research Programs & Services
dbpouder@ufl.edu
813-671-5230 x106
Application Requirements
Applications are accepted year-round. Positions fill quickly and up to one to two years in advance, so early application is strongly encouraged. To apply please submit:
Letter of intent expressing specific interests in aquatic medicine
Curriculum vitae
Three (3) signed letters of recommendation on letterhead sent directly from references (via postal or e-mail)
Official veterinary school transcript sent directly from the school (or their transcript system)
Three (3) preferred rotation dates in preference order (minimum four-week blocks with starting date on Monday and ending date on Saturday) (See calendar below for currently open dates.)
Please submit all application materials (via email OR standard mail) to:
Debbie Pouder (dbpouder@ufl.edu)
University of Florida
Tropical Aquaculture Laboratory
1408 24th Street SE
Ruskin, FL 33570
A video interview will be scheduled after review of all application materials.
Externship Calendar (availability subject to change at any time)