Student Opportunities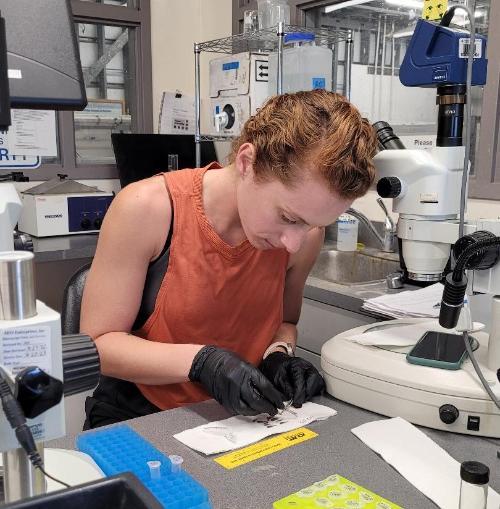 MS Graduate Research Assistantship - Artemia Replacement in Ornamental Larviculture

MS Graduate Research Assistantship - Artemia Replacement in Ornamental Larviculture

Start: May 15, 2023 (Summer semester)
Program: Fisheries and Aquatic Sciences
Deadline: January 31, 2023 or as soon as a suitable candidate is identified

We are currently seeking applicants for a two-year, MS research assistantship investigating Artemia replacement methods for freshwater and marine ornamental fish species in Florida.

Description: Production of ornamental fish is reliant on live feeds such as Artemia, due to their ability to elicit a feeding response and high digestibility. However, reliance on wild-sourced Artemia and their inconsistent availability have created severe volatility in prices. Microparticulate diets (MDs) have gained popularity as alternatives to reduce or eliminate the use of Artemia due to their particular size range, consistent availability, and excellent nutritional profiles. Larval malnutrition may still be a concern due to issues with palatability and a reduced incidence of ingestion. The addition of feed modifiers to larval diets has been shown to increase feeding incidence, specific growth rate, and survival. Alternative MDs, such as liquid larval diets, may also be viable live feed replacements due to their formulation mimicking the texture, palatability, and nutritional value of Artemia nauplii. The graduate student will investigate effects of feed attractants and commercially available liquid larval diets on the growth, survival, and larval quality in freshwater ornamental fishes. Results from this study will be directly disseminated to ornamental fish producers in the Southeastern US in addition to publication of peer-reviewed and extension articles.

Location: This position will be located at the University of Florida's Tropical Aquaculture Laboratory (http://tal.ifas.ufl.edu), a fully equipped research and extension center located in Ruskin, Florida. The facility includes 5 greenhouses, 50 earthen ponds, a climate controlled hatchery, and a full-service disease diagnostic laboratory. The degree will be awarded through the Program in Fisheries and Aquatic Sciences in the School of Forest, Fisheries, and Geomatic Sciences (https://ffgs.ifas.ufl.edu).

Qualifications:
• B.S. degree in biology, zoology, marine sciences, aquaculture or related discipline
• Demonstrated research experience and familiarity with marine aquaculture is highly desirable
• Excellent verbal and written communication skills

Salary/Benefits:Annual stipend, tuition remission and health insurance

Application: Interested applicants should submit the following documents as a single pdf or Word file via email to Dr. Matthew DiMaggio, (mdimaggi@ufl.edu), by the January 23, 2023 deadline.

• Cover letter summarizing interest in the position, qualifications and experience, as well as research and career aspirations
• Curriculum Vitae
• Unofficial academic transcripts
• Names and contact information for three professional references

Final candidates will be contacted and required to submit formal applications to the University of Florida graduate school.

Master of Fisheries and Aquatic Sciences (MFAS)

WE ARE ALWAYS ACCEPTING APPLICATIONS FOR SELF-FUNDED MFAS (NON-THESIS) STUDENTS.

Aquatic resources harbor a large share of the earth's biodiversity and provide crucial ecosystem services including production of food, maintenance of water and environmental quality, and provision of recreational opportunities. Yet these resources and the services they provide face unprecedented threats from overfishing, habitat loss degradation and global environmental change. The Fisheries and Aquatic Sciences Program in the School of Forest Resources and Conservation (SFRC) conducts cutting-edge research, training, and extension for the sustainable development and conservation of aquatic biological resources in Florida, the Nation, and worldwide. Among our educational programs, the Master of Fisheries and Aquatic Sciences (MFAS) specifically addresses the need for high-quality professional training in the field.

The online Master of Fisheries and Aquatic Sciences is offered by the College of Agriculture and Life Sciences (CALS) in the School of Forest Resources and Conservation. This program is designed for working professionals in environmental sciences, fisheries, aquatic sciences, and natural resources, and marine biology fields who are interested in advancing their careers by earning a graduate degree. The availability of this program entirely online means that students will not have to sacrifice their commitments to career and family in order to earn the degree.

Program Requirements

The MFAS program consists of 32 credits, of which at least 16 must be Fisheries and Aquatic Sciences (FAS) courses. The remaining credits may be chosen from any graduate-level courses in the SFRC or at UF, with the approval of your advisor. For information on the application process, visit the How to Apply page at SFRC..

Part of the application process involves identifying a faculty member to serve as your advisor. Direct inquiries in areas of aquaculture production to Dr Matt DiMaggio, non-native species to Dr. Jeff Hill, aquatic ecology to Dr. Quenton Tuckett and aquatic animal health to Dr. Roy Yanong.

Course Options

As noted above, any FAS courses may be used to fulfill the 16 major credits required for this degree, but students may choose to take more FAS credits if desired. During the degree, students register for a maximum of 6 credits of FAS 6905 for credit towards their technical paper, usually split between the first semester and the final semester.

Technical Paper

The online MFAS is a non-thesis degree and therefore does not require a research thesis for completion. The degree does require the student to write a technical paper/final project based on extension/outreach or research on a topic of their choosing in an appropriate professional area. The technical paper/final project must be approved by the Supervisory Committee.

Final Examination

Academic programs are required to give a final examination to students as part of their MS graduation requirements. The examination format (e.g., written or oral), length, breadth, location, and subject matter will be determined by the Major Advisor plus an additional SFRC faculty member in concert with the student. The content will be centered on subject matter drawn from the student's coursework. A second SFRC faculty member, to be identified by the Advisor and student working together, will be required to participate in the student's examination. The examination should be taken during the last semester of enrollment, but no later than one month prior to the end of the term. See Graduate School deadlines for specific dates.