Tropical Aquaculture Laboratory
Tropical Aquaculture Laboratory
Fish Disease Diagnostic Laboratory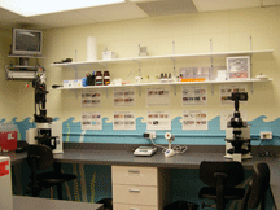 The Fish Disease Diagnostic Laboratory at the UF/IFAS Tropical Aquaculture Laboratory (TAL) is a full-service lab available to commercial Florida fish producers, wholesalers, and retailers as well as state agencies and research facilities. Services offered include water chemistry testing, parasitology, bacteriology, histology, and virology. The laboratory has a full-time veterinary staff and also works collaboratively with other veterinary specialists and laboratories in the state.
Clients are encouraged to contact the laboratory as soon as a disease problem is suspected. Treating fish before their submission to the lab can greatly interfere with the ability to diagnose the cause of the disease. We strongly encourage all clients to provide a separate water sample from affected systems for analysis even if no water quality problems are suspected.
The lab is open Monday through Friday, 8 AM to 5 PM Eastern Time. **Contact the lab before preparing fish for delivery or shipment.** Please call 813-671-5230 Ext. 0 and ask to speak to someone in the diagnostic lab.
Please contact the laboratory regarding fees for the various services available.
Please note: We are unable to provide disease diagnostics for aquarium hobbyists, recreational pond owners, or non-commercial ornamental (koi/goldfish) pond owners. However, you may search for an aquatic veterinarian at www.fishvets.org. If you are unable to find veterinary assistance using these two sites, please contact us and we will be happy to try to help you find an aquatic veterinarian or laboratory to assist you.