Grace Sowaske
Graduate Student
Degree Obtained: M.S. (2020)
Major Professor: Dr. Matt DiMaggio
Grace Sowaske graduated from the University of Wisconsin Madison in 2016 with a Bachelor of Science degree in Wildlife Ecology and a minor in Environmental studies. After graduation Grace built a tiny house on wheels and was featured on the T.V show Tiny House, Big Living, season 5 episode 5. She then went on to work in the marine aquaculture field at two different facilities in Florida working with larval marine ornamentals.
She started her master's program at the Tropical Aquaculture lab in July 2018 and graduated in the spring of 2020. Her research was funded through Rising Tide Conservation and focused on developing aquaculture protocols for Flame Hawkfish (Neocirrhites armatus), Yellow Wrasse (Halichoeres chrysus), and Blue Tang (Paracanthurus hepatus).
Grace has now begun her new career as an aquarist at SEA LIFE Michigan Aquarium in Auburn Hills, MI.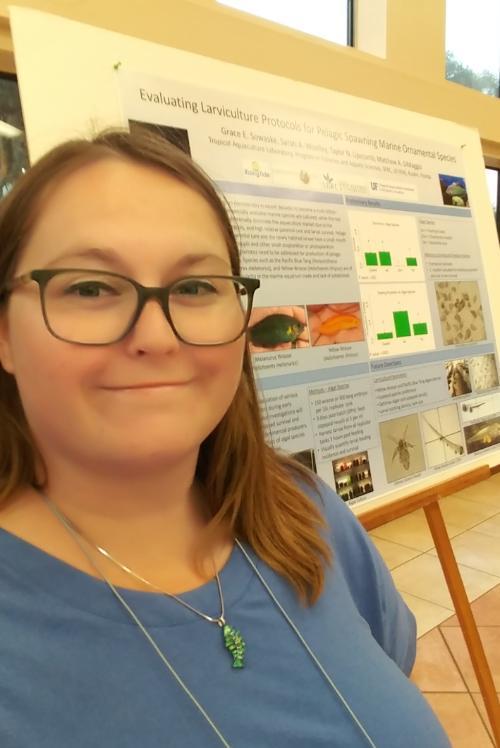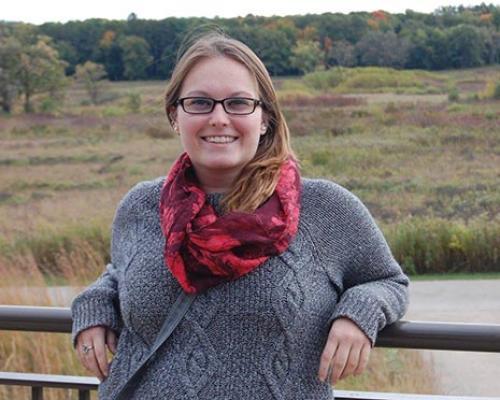 CONTACT
UF/IFAS Tropical Aquaculture Laboratory
1408 24th Street SE
Ruskin, FL 33570
gracesowaske@ufl.edu
813-671-5230 x116
Education

B.S., Wildlife Ecology, 2016, University of Wisconsin, Madison

M.S., Fisheries and Aquatic Sciences, 2020, University of Florida

Presentations

Sowaske, G., C. Murray, S. Hutchins, T. Lipscomb, M. DiMaggio. 2020. Effects of microalgae density, prey density and potential feed attractants on survival and feeding incidence for Pacific Blue Tang Paracanthurus hepatus and Melanurus Wrasse Halichoeres melanurus. Aquaculture America, Honolulu, Hawaii.

Sowaske, G., T. Lipscomb, S. Hutchins, and M. DiMaggio. 2019. Evaluating microalgae species effect on survival and feeding during early larviculture of three marine ornamental species. Marine Aquarium Conference of North America, Orlando, Florida.

Sowaske, G., T. Lipscomb, S. Hutchins, and M. DiMaggio. 2019. Evaluating Larviculture Protocols for Pelagic Spawning Marine Ornamental Species. Graduate Student Symposium, Gainesville, Florida.

Sowaske, G., T. Lipscomb, S. Hutchins, and M. DiMaggio. 2019. Evaluating Larviculture Protocols for Pelagic Spawning Marine Ornamental Species. American Fisheries Society Florida Chapter Annual Meeting, Haines City, Florida.

Sowaske, G., S. Hutchins, and M. DiMaggio. 2019. Marine Ornamental Research Update. Rising Tide Conservation Stakeholder Meeting, Columbus, Ohio.

Asp, E., M. DiMaggio, A. Durland Donahou, M. Hauville, J. Hill, L. Lapham, K. Lawson, T. Lipscomb, K. Lohr, J. Patterson, A. Pilnick, S. Ramee, K. Schulz, G. Sowaske, S. Thomas, Q. Tuckett, and R. Yanong. 2019. Traits and trait change in 48 of the world's most highly-domesticated fishes. American Fisheries Society Florida Chapter Annual Meeting, Haines City, Florida.

Awards

2020 Roger Rottmann Memorial Scholarship

2020 Aquatic Equipment and Design Inc. Award

2020 University of Florida SFRC Travel Scholarship

2020 USAS Gator Student Subunit Travel Award

2020 Univeristy of Florida Research Travel Award

2019 Travel Scholarship for the Florida American Fisheries Society Meeting