Shane Ramee Wins William C. and Bertha M. Cornell Fellowship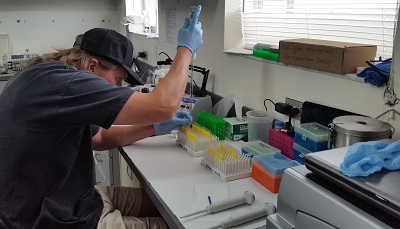 Shane Ramee, a PhD candidate at the UF/IFAS Tropical Aquaculture Laboratory (UF TAL), was recently awarded the William C. and Bertha M. Cornett Fellowship for 2017 – 2018. This prestigious award, offered through the UF College of Agriculture and Life Sciences, aims to recognize exceptional graduate students in the field of agriculture.
Shane's doctoral research focuses on developing protocols to effectively masculinize commercially valuable freshwater ornamental fish species. Using basic and applied approaches, Shane is attempting to develop a viable procedure which will allow him to skew populations towards the male phenotype while at the same time investigating the underlying physiology driving this process. Results from Shane's research could have immediate impacts on the Florida ornamental fish industry. We are excited to see Shane recognized for all his hard work, and we wish him the best in the rest of his graduate career. Congratulations, Shane!